We are a school fully devoted to the growth of our students. Helping our students develop their English and social skills is incredibly rewarding. All our staff members are experienced childhood educators. We love what we do and push ourselves to be the best in the industry. Children come first and foremost at Happy ABC. We want to open a world of possibilities for our students and community. By giving our students the tools needed for multicultural exchange, we help prepare them for their ever-changing futures.
We want to learn, play, smile, and grow with our students.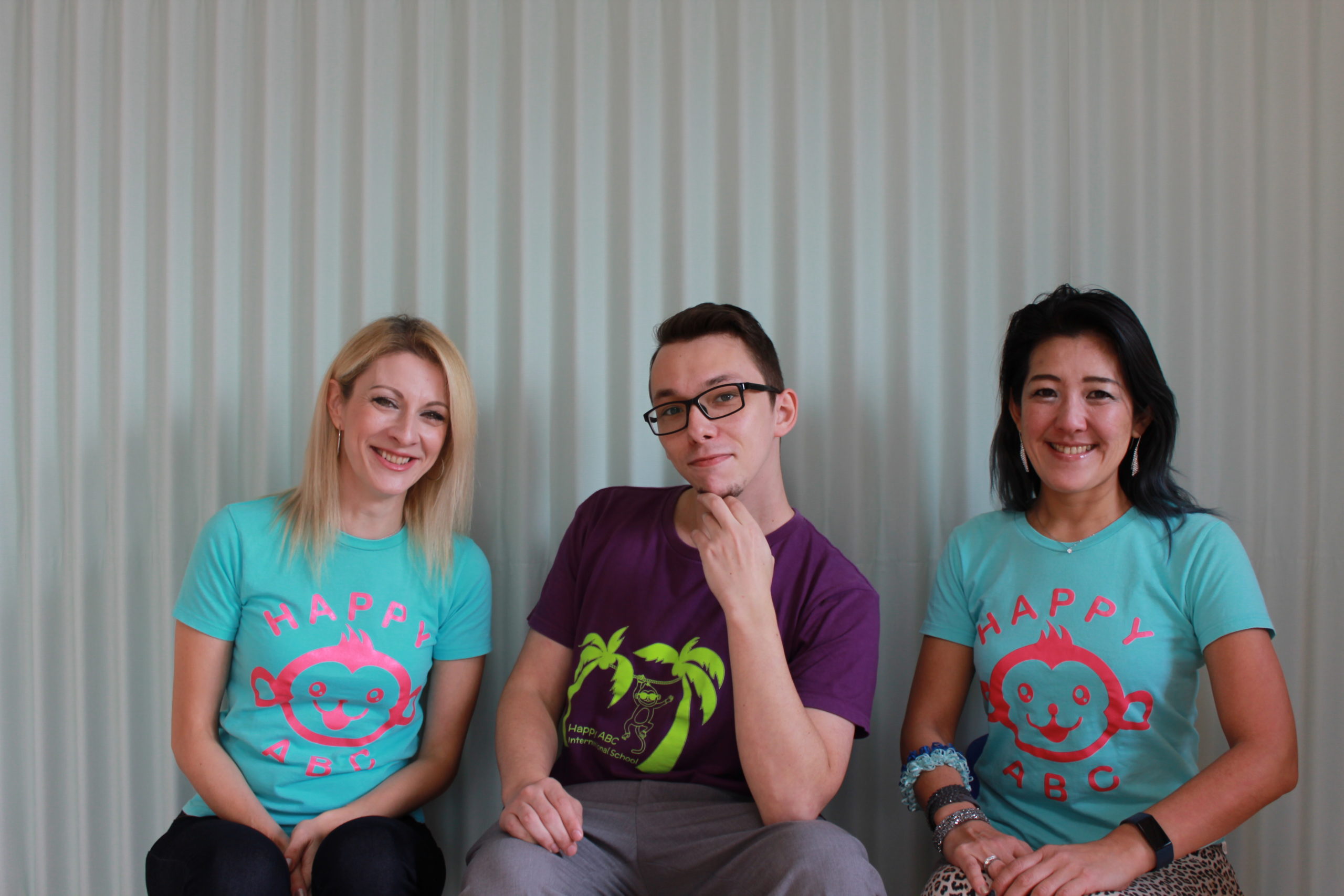 A world where global communication and cross-cultural understanding are not hindered by educational barriers.
At Happy ABC International School, our mission is to be a leader of our industry educating, inspiring, and empowering our students through language, culture, and community. We strive to create a comfortable environment that provides the highest quality English language training available. 
This environment will allow all our learners to become global citizens with great understanding, tolerance, empathy, and appreciation for other cultures. Our programs are ever evolving as we continue to add value by constantly adapting programs to the educational needs of our students.
Message from the director
I have been curious about the world beyond my immediate vicinity for as long as I can remember. How do other people live? What do they eat? How do our values differ? Why do we see things differently?
I knew early on that I wanted to connect with people from different walks of life. I understood that a common language would better enable me to connect and learn about other cultures. English has been a key component in my efforts to communicate with varying cultures. When I came to Japan, I quickly realized that if I was going to make a life here I needed to start learning Japanese.
It was a hard start, to say the least. Not being able to make friends, go to the doctors on my own, read labels at the store, understand all that was being said at my children's kindergarten PTA meetings, and more. The list of language-related challenges goes on.
One day during those early times in Japan, I found myself lost on my way back home from the station. All the streets looked the same and there were no landmarks for me to guide myself by. An hour later this should've been a 4-minute walk, I was still wandering the streets in tears… That was until I came face to face with the owner of a tiny convenience store near my building. All I could ask was "私の家どこですか?". He said he didn't know so I asked where the convenience store was. He took me there and I was finally home!
That day was a turning point in my life. I knew that it was time for me to take my power back. I wanted to not only help myself but to help others. I wanted to prevent them from feeling overwhelmed by language and cultural barriers so that they could confidently communicate. I joined intensive Japanese classes and made a lot of Japanese friends. These friends have tremendously contributed to my growth, and for this, I am forever grateful. I took it upon myself to join multiple educational courses, seminars, and programs at the end of which I became certified to teach English as a foreign language to young learners. Teaching English is not just my chosen profession, it is a passion in my life that remains close to my heart. I have had not just the pleasure of teaching my children, but the children of nursery schools, elementary schools, and junior high schools as well. I have, in turn, learned a lot from all of these children.
Looking back, I now feel proud of myself for not giving up and choosing to overcome the hardships by persevering in my efforts to make my life and the lives of others more fulfilled. In the age of rapidly increasing globalization, being able to connect is more important now than ever before. I am convinced that our school's efforts to give our students a head start in life will be rewarded in the future with our students' success stories.